The Spine Hospital
Daniel and Jane Och Spine Hospital at NewYork-Presbyterian Allen Hospital provides comprehensive and coordinated spine care treatment for common spine disorders and rare, hard-to-treat spinal deformities. As part of New York's No. 1 hospital, according to U.S. News and World Report, our world-renowned Columbia University Irving Medical Center physicians and surgeons use the most advanced technology and innovative techniques to restore mobility and function for children, adolescents, and adult patients from around the world.
Dr. Lehman and The Spine Hospital
Dr. Lehman is part of a trio of top spine surgeons recruited to build a one of a kind institution devoted to caring for spine patients. The Spine Hospital supports spine patients from skull to sacrum. Our mission started in 2014, when Dr. Lehman came to New York to team up with Columbia Doctors and New York Presbyterian to create this exceptional place.
Our goal is to be able to provide comprehensive and compassionate care to a wide range of spine patients. The Spine Hospital's team of nurses, administrators, researchers and technicians all encompass the values that ensure excellent care is provided to every patient.
The Spine Hospital is state of the art, with the best in cutting edge spine technology. The operating rooms and staff can utilize microscopic, robotic and minimally invasive techniques. This is all supported by incredible radiology viewing with HD screens in all of our dedicated spine operating rooms.

Resources
The Spine Hospital is fortunate enough to have access to comprehensive patient support and a number of innovative technologies. These include, but are not limited to:
Full Orthopedic Hospital: The Spine Hospital is a fully operational orthopedic hospital and have access to all of the accoutrements that accompany this kind of facility. We have access to a CT, MRI, X-ray, operating rooms, and all other standard components of a high-quality, institutional orthopedic hospital.
Private Patient Rooms: The patient rooms at the Spine Hospital opened in 2015. Each of our 14 rooms is private and equipped with a flat screen television, free wifi, in room safe, refrigerator, and ensuite bathroom.
Client Services: The Spine Hospital has a dedicated team of client specialists specifically for our spine patients. The client services team is there to help guide patients, friends and family through the inpatient stay. They offer assistance with and concierge needs.
EOS X-Ray: The EOS X-ray machine is capable of taking full body X-rays with an ultra-low radiation dose. This provides us with a unique ability to see how the spine is interacting with other structures such as the pelvis and shoulders, rather than just a snap shot of the problematic vertebrae. Further, we have the ability to construct these X-rays, taken in just seconds, into accurate three-dimensional visualizations of any patient's spine.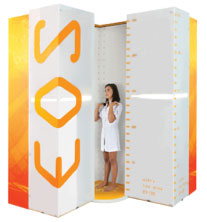 DIERS Formetric: This topographical analysis system takes a series of photographs over the course of a few seconds, which are then constructed into a three-dimensional model of a patient's spine with no administered radiation. The DIERS allows us to dynamically track a patient's spine through its full range of motion. We can then see how a patient's given condition may be affected during their everyday activities, and generate a great amount of quantifiable data in the process.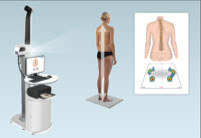 Robotic assistance: Robotic assistance enhances patient safety. The surgeon using robotic assistance is able to use less intraoperative x-rays, and place instrumentation more efficiently and accurately.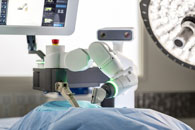 3D Microscopic Assistance: Our surgeons are able to view the surgical site through an advance microscope. This makes patient anatomy easily identifiable thus making surgery more efficient and safe.
Intraoperative CT scan: the spine hospital has intra-operative CT capabilities. The surgeons are able to take CT scans of patients on the operating room table to further evaluate accurate instrumentation placement.
Spine Modeling:  The team of surgeons at the Spine Hospital have unique access to a modeling company. This access allows us to send 3D images to a company to have a model made. For patients with severe scoliosis and kyphosis, our surgeons are able to see and touch what the patient's spine looks like before the patient ever sees the OR. In fact, the surgeons are able to plan for placement of instrumentation using these individually made models.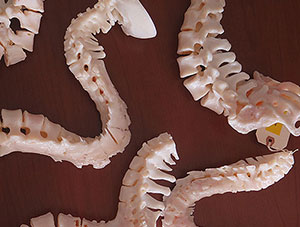 Neuromonitoring: The Spine Hospital's neuromonitoring staff provide detailed, high-quality information on neurological events intra- and post-operatively. The Spine Hospital research staff works in concert with the neuromonitoring team to capture this accurate and meaningful data.
Physical therapy: The Spine Hospital has an in-house spine-focused physical therapy staff that not only helps patients return to function after surgery, but also physically prepare patients pre-operatively to enhance their recovery.
Non-operative spine treatment: The Spine Hospital has an excellent working relationship with non-operative Sports Medicine as well as Physical Medicine in Rehab. Our surgeons work with these providers to allow patient access to care when surgery isn't needed.