Dr. Lehman's Bio
Meet Ronald A. Lehman, Jr., MD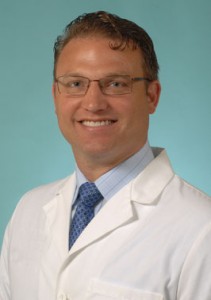 Dr. Ron Lehman is a Nationally and Internationally recognized leader in spine surgery, performing the most complex scoliosis and kyphosis operations in Pediatric and Adult patients. In addition, he performs minimally invasive surgery (MIS), and utilizes the operating microscope and tubular retractors whenever possible for the cervical and lumbar spine.
Dr. Lehman has become a leading authority on cervical disc replacement—lecturing and presenting his research around the world. He holds leadership positions in many of the largest spine societies, and charges himself with assisting in the advancement of outcomes and spinal care for his patients. Many high-performance athletes have chosen Dr. Lehman to perform their surgeries, since he specializes in returning them to the field of play as quickly as possible.
Education
A native Pennsylvanian, he graduated from the United States Military Academy at West Point, NY, in 1993 where he was a letterman in collegiate athletics. He was then selected to go directly to medical school at Jefferson Medical College in Philadelphia.
Dr. Lehman completed his Residency at Walter Reed Army Medical Center in Washington D.C., and assisted in the care of our Nation's Heroes after they returned from the Wars in Iraq and Afghanistan. To this day, he feels that this was his most enlightening professional experience and feels privileged to have cared for our Wounded Warriors and their families. He also served as a General Medical Officer at the Pentagon from 1998-2000.
Experience
Following his training, he was selected for Spine Fellowship at the prestigious Washington University School of Medicine in St. Louis, MO.  He learned the intricacies of complex Pediatric and Adult Spinal Deformity (scoliosis and kyphosis).
Prior to coming to Columbia University in New York, NY, he served as the Chief of Pediatric and Adult Spine at Walter Reed Army Medical Center in Washington, D.C., as a Lieutenant Colonel (LTC) in the US Army for 17 years.
While on staff at Walter Reed, he served as:
Consultant to the White House
Consultant to the Surgeon General of the Army for Spine,
Consultant to the United States Military Academy and United States Naval Academy
Consultant to the Food and Drug Administration (FDA).
While at Walter Reed, he led the Spine Research Center and Biomechanics Laboratory at Walter Reed. This laboratory was one of the most academically-productive laboratories in the Department of Defense. Additionally, he started a Basic Science initiative at the Uniformed Services University of the Health Sciences (the Military's' Medical School). This enterprise—for which he won the Outstanding Paper Award from the North American Spine Society in 2014—focused on spinal cord injury and the effects of bone morphogenetic proteins on the spinal cord and dura. After fulfilling his commitment to the Army, he was recruited to return to Washington University as Professor, with Tenure, of Orthopaedic and Neurosurgery.
Research and Publications
Dr. Lehman's dedication to research and advancement of spine treatments and care for his patients is clear.
He has:
published more than 120 peer-reviewed publications
written more than 60 book chapters
had his research presented around the world more than 600 times
been the Principal Investigator on more than $10 million in research funding
View a list of Dr. Lehman's publications.
In addition, he currently has Prospective Randomized Controlled Trials (RCTs) focused on advancing the outcomes for spinal surgery.